A Surgical Milestone at Oman Dental College
Posted by

Date

April 5, 2018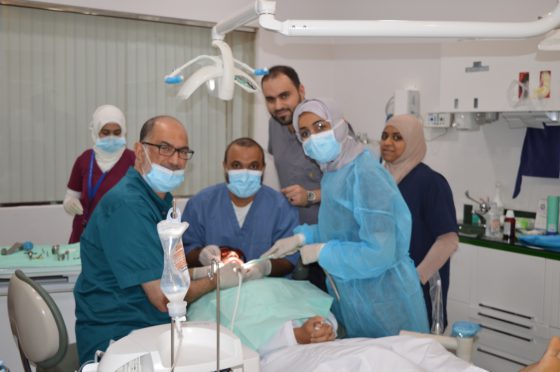 A team of Oral and Maxillofacial surgeons comprising of Dr Mohamed Al Ismaili and Dr Ahmed Al Hashmi  together with their Orthodontic counterparts namely Dr Mohammad Zeinalddin and Dr P.S Viswapurna of Oman Dental College, recently using piezzo surgical technique under local anaesthesia successfully performed corticotomies of the jaws to correct anterior open bites in two patients.
These piezocisions of the jaw bone utilizes piezoelectric vibrations to make precise selective cuts on the jaw bones with minimal bleeding to accelerate tooth movements. It is also very convenient for the patient as the procedure can be performed under local anaesthesia.
Although corticotomies of the jaws to treat jaw deformities were described since the late nineties, the technique did not receive acceptance as it was complicated by the use of drills, caused bleeding, endangered the nerves and had to be performed under a general anaesthesia. Thus many surgeons and orthodontists did not feel the advantage of using this technique over the conventional orthognathic surgeries.
Recent advances using piezo surgery has made jaw corticotomies relatively safe in that there is minimal bleeding at the operation site, the nerves are not endangered and the procedure is readily acceptable by patients to be performed under local anaesthesia on the dental chair. This method provides the oral surgeons and orthodontists with a safe and predictable method to treat selected deformities, explained Dr Ismaili.
Orthodontic treatment in terms of duration is the longest performed dental treatment. Using jaw piezzocision technique, the orthodontic tooth movements in selected cases are accelerated to a third or even a quarter of the time required in comparison to conventional orthodontic therapy and the results are more stable, added Dr Zeinalddin.
A 14 year old and 25 years old male patient, both with anterior open bites, who would otherwise have required conventional and difficult orthognathic surgeries necessitating hospital admissions to correct their facial deformities were recently successfully treated at Oman Dental College using piezzosurgery under local anaesthesia.