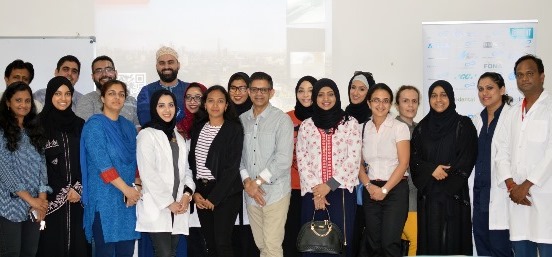 Oman Dental College holds Continuing Professional Development Workshop  
Posted by

Date

April 5, 2018
As a part of its commitment to ongoing Continuing Professional Development activities for the dental profession, Oman Dental College (ODC) recently held a successful OMSB recognised postgraduate educational workshop titled "The Operative Management of Deep Caries using the "MI" Approach".  This workshop, sponsored by GC Middle East, was led by Professor Avijit Banerjee, an internationally renowned researcher and Chair in Cariology and Minimum Intervention Operative Dentistry at King's College London Dental Institute at Guy's Hospital, London, who is also visiting Professor at ODC.
Delegates were initially treated to a 60 minute interactive, thought provoking session that outlined contemporary concepts of deep caries management using minimally invasive dentistry protocols. This was followed by hands-on training led by Professor Banerjee and assisted by Dr Thillaikkarasi from ODC at the College's excellent Clinical Skills Laboratory. The workshop concluded with an informal dinner where delegates had further opportunity to interact with Professor Banerjee and discuss his postgraduate distance-learning Masters Course in Advanced Minimum Intervention Dentistry at King's College London Dental Institute.
"Minimally invasive dentistry is the modern concept in caries (tooth decay) management that is increasingly now being taught and practiced around the world. Having been affiliated with ODC for the last 10 years, it is a privilege to work with such a hardworking and committed team, led by the Dean, Dr Arora and Chairman, Dr Al Ismaily, to bring these modern teaching approaches to the Middle East and Oman in particular." said Professor Banerjee.