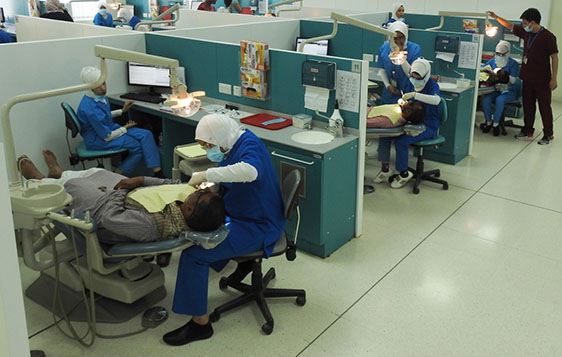 Oman Dental College Holds Free Oral & Dental Healthcare Awareness Camp
Posted by

Date

March 21, 2018
Oman Dental College recently organised a free Oral & Dental Healthcare Awareness Camp at its clinical facility with active participation by a number of undergraduate dental students supervised by some of the clinical faculty and staff. The College team provided free oral and dental screening for almost 200 individuals together with information on the importance of oral and dental health in the overall wellbeing of an individual.
The Camp was organised with the help of the Indian Social Club Charity Wing and was directed at helping blue collar workers from Al Ansari and Oman Shapoorji LLC labour camps. Juhina Abdullah Ali Al Balushi, a final year student at Oman Dental College, said "this was a truly unique experience; to do charity work for the community gave me and my colleagues immense satisfaction."
Dr PS Viswapurna, Senior Lecturer and Head of Clinical Services at Oman Dental College, said "Such Oral Health Awareness Camps are of immense value to the population in order to address basic Dental & Oral Health issues and as a College we are happy to provide this community service".
The College Dean Dr Rahul Arora added "The active participation by many of our senior students and staff, who all volunteered and gave of their free time, is commendable and reflects an important component of the College Mission to "..contribute towards the progress and development of national oral healthcare provision through health promotion, disease prevention and care.." Community orientated events such as these, which are driven by the willingness and professionalism of our students to care for others, identifies with our collegiate Social Responsibility commitment."
Oman Dental College, situated in Al Wattayah, runs a 68 chair multi-specialty dental teaching clinical facility providing oral and dental healthcare to both Omani citizens and expatriates virtually free of charge. Dental students, under the close supervision of highly trained dental faculty, provide comprehensive care for more than 2000 patients each month.