Dentistry is a blend of the oral and medical sciences, humanities and art. Dentists, also known as dental surgeons, have the opportunity to pursue a career that offers intellectual and practical challenges, provides a valuable service to society, to earn a respected place in the community as well as to earn a good income. The dental profession provides a stimulating range of career options both in the public and the private sectors. Dentists as healthcare professionals diagnose and treat a range of problems. This demands strong diagnostic, clinical and social skills. They usually work as leaders managing a team that includes dental nurses, hygienists, therapists, receptionists and often others dentists delivering quality oral healthcare to the community. Dentistry therefore requires the highest standards of professional, academic and personal conduct and provides a wide range of rewarding career opportunities.
Quality Programme: The programme of studies is benchmarked to international standards and is designed to prepare students to practice as safe beginners on graduation and equip them for independent dental practice, whether setting up their own clinics or working in the public sector.
Excellent Faculty: The College has an excellent international & local faculty, with many years of teaching and clinical experience. At ODC you will be guided as an aspiring professional working towards your dental degree. The faculty at ODC are committed to providing every student with the support required to enable students to become knowledgeable & caring dental professionals. The supervising clinical faculty at Oman Dental College comprises highly qualified and experienced clinicians, who oversee student treatment of patients with excellent support from experienced administrators and well-trained dental nurses & technical support staff.
Teaching and Learning Facilities: The College is housed in a state of the art five-storey purpose built facility, including lecture theatres, seminar rooms, training laboratories, student facilities, administrative and faculty offices, an outpatient clinical dental teaching facility and day care theatre suite. These facilities provide an excellent and comprehensive range of learning experiences necessary for general dental practice. Students in the clinical years of the BDS Degree Programme are involved in providing oral and dental care for more than 4500 out-patients per annum. The excellent clinical facilities at ODC enable students to provide comprehensive quality oral and dental healthcare to all members of the public, both Omani & Expatriate.
What are your ODC opportunities?
The graduate opportunities in ODC currently include:
Orthodontic Practitioner Programme
Endodontic Practitioner Programme
Junior Dental Officer (JDO)
Junior Lecturer.
These graduate opportunities provide employment for newly qualified dentists to gain additional confidence, experience and expertise. The Orthodontic and Endodontic graduate pathways offer training and clinical experience over a three-year period. Upon completion of training, candidates are permitted to sit the examinations of the Royal College of Surgeons in Edinburgh and the Royal College of Physicians and Surgeons in Glasgow.
The Junior Dental Officer position supports Omani graduates over a two-year period to increase their confidence, knowledge and skills and provide opportunities to consider progression to an academic career. Junior Dental Officers can then progress to become Junior Lecturers and follow the ODC academic promotion pathway after gaining experience and more qualifications.
ODC supports an Internship Programme which offers newly qualified International ODC graduates the opportunity to further develop their skills and confidence before employment.
All these placements require the graduates to take part in research projects or join an ODC research circles. These graduates are encouraged to have been participated in the in-house research methodology and ethics training and work closely with a research mentor. Interns are also encouraged by experienced researchers to be involved in projects as research assistants.
Dentistry as a Career option:
ODC is pleased to offer students in secondary school with an opportunity to attend session(s) and observe didactic and practical teaching session(s). During the course of the visit, students will be allocated and ODC student "buddy".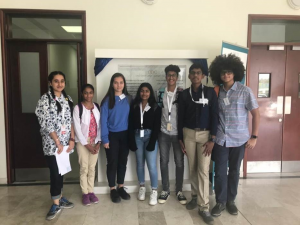 Students from British School Muscat visiting the ODC
With its natural beauty, clean & green surroundings, good infrastructure and a safe and secure environment Muscat is a great place to live in. The cultural diversity of the city coupled with the warmth and friendliness of the local people and a religiously tolerant society means that all newcomers to Muscat feel at home instantly and fit in very easily and quickly. The cost of living is amongst the lowest in the region, which gives young people more opportunity to make full use of the excellent shopping and recreational facilities that Muscat and the rest of Oman have to offer. Consistently featured as one of the top tourist destinations in the world, Muscat provides an unparalleled open and dynamic setting for studying.