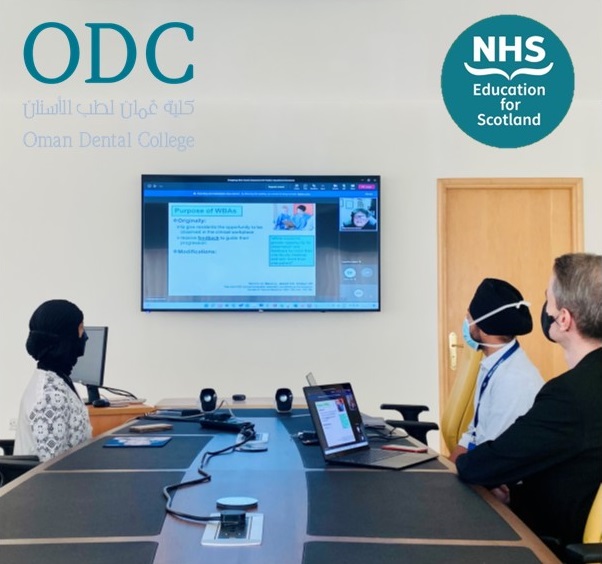 ODC Research made its way to Scotland
Posted by

Date

April 28, 2022
This week, two student-led abstract papers were presented at the NES Annual Virtual Conference 2022 (sponsored by NHS Education for Scotland). The NES Conference drew participants from all over the world involved in medical and dental education. Lara Hassan and Maryam Sedqi, 5th year students from ODC, presented their papers alongside experts from across the UK and had the opportunity to lead joint sessions emphasising interprofessional learning across healthcare disciplines. Lara presented a student-led project called "interactive crossword puzzles as an adjunct tool in teaching undergraduate dental students", while Maryam presented a multidisciplinary project titled "Impact of C19 on students' Mental Health".
The fact that this was the first time a seminar paper was presented at the conference by a non-British institution distinguishes it as a significant achievement. With Dr. Ayida al Wohaibi's presentation on "Practical Teaching and Learning in Living Anatomy", we've set our sights on this accomplishment and many more in the not-too-distant future, as predicted by our newly implemented research strategy. Dr. Triveni Nalawade, another research-active faculty member, contributed to our success by presenting a poster titled "Role Play for Education-Learning of Dental Radiographic Techniques", which highlighted one of her instructional approaches in Dental Radiology teaching.
The presentations were well received, attracting a large number of attendees and sparking constructive and engaging discussions among the general audience and plenary chairs. As part of its vision to achieve research excellence, Oman Dental College continues to strongly encourage its faculty and students to attend and actively participate in conferences, both to gain an overview of the types of research being done in their fields and to publicly present their own work.