OMAN DENTAL COLLEGE HIRES OMANI JUNIOR DENTAL OFFICERS
Posted by

Date

November 13, 2018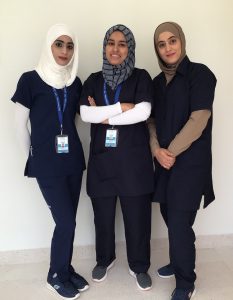 As a part of Oman Dental College's ongoing commitment to providing employment to its alumni, three recent graduates have been appointed as Junior Dental Officers.
The three dentists, Dr Siham Al Shereiqi, Dr Raqiya Nahdi and Dr Ruqaiya Al Ghafri graduated from ODC two years ago.
 Whilst at ODC these young dentists will treat patients, work in the screening clinics, and assist in the state of the art clinical simulator laboratories. They will also get time to undertake some research work and most importantly prepare for the MFDS examination for the Royal College of Surgeons.
 Dr Polyxeni Petropoulou, Senior Lecturer at ODC said "As ODC faculty we are delighted to supervise and guide these young dentists as they prepare for the next stage in their dental careers" Dr Nutayla Al Harthi Vice Dean Academic & Clinical Affairs added that "It is a part of ODC's commitment to employ their graduates and help them enhance their skills, to become better dentists in Oman"
 The three JDO's stated "We are very happy to have been given this opportunity to work in our Alma Mater; we hope to get full benefit of this experience so that we can become more skilled dentists in the future."