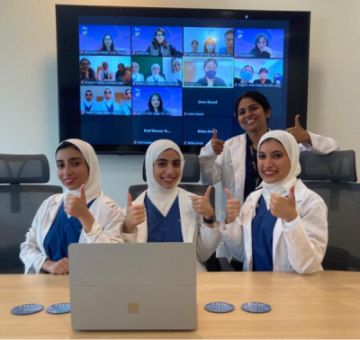 Congratulations to our winning team at the International Dental Students' Conference IDSC Malaysia
Posted by

Date

May 1, 2023
We are delighted to share the fantastic news of the outstanding achievement of three of our Year 5 students, Alla Al Jaradi, Bashair Al Rashdi, and Meera Al Wahaibi, who together formed a team and won the "Academic and Clinical Expertise through Research" competition at the International Dental Students' Conference (IDSC) in Malaysia this morning.
The competition was fierce, with five highly skilled teams from around the globe reaching the final round. Despite the challenging circumstances, our Oman Dental College team demonstrated exceptional dedication, perseverance, and talent, emerging victorious in the end.
We would also like to give an honorable mention to two other teams from ODC who managed to reach the final rounds of the competition. The first team comprised Razan Al Rawahi, Shifaa Al Maskari, and Aisha Al Kiyumi, while the second team included Fatin Al Dulaimi, Mayar Al Shaharli, and Al Reem Al Rusheidi. Their achievements are equally commendable, and they deserve recognition for their hard work and dedication.
This remarkable accomplishment serves as a testament to the high-quality education and training provided at Oman Dental College. It proves that we are on the right track, successfully preparing our students to excel as both junior researchers and well-rounded clinicians in the future. We are immensely proud of Alla, Bashair, and Meera for their hard work and for representing our institution with distinction on the international stage.
Please join us in congratulating Alla Al Jaradi, Bashair Al Rashdi, and Meera Al Wahaibi on their phenomenal success. We are confident that they will continue to shine in their academic and professional pursuits, inspiring fellow students and contributing to the growth and reputation of our esteemed institution.